The peculiar closet on the stairs that lead down to my studio contained three squealing girls.
They'd committed the unspeakable sin of saying the words, "Increase your range of dynamics!"
Sounds crazy, doesn't it? Maybe you need a little context.
Our big spring recital is only a week away, so my students were running through their pieces for each other at this week's master classes. (Younger kids at 10 am, older kids at 11 am.)
Mysterious hands emerging from the closet.
We were trying to give some constructive criticism and feedback. The phrase "increase your range of dynamics," was being said over and over, I suspect just to annoy me in a goofy way.
So we dealt with it in a silly way – by putting the girls in the closet. They loved it.
When Elena began playing Lights, Camera, Action by Keith Snell, the other girls started to wiggle. I figured I had two choices. Tell them to be quiet, or let them to get up and dance!
Here's what happened:
I went with their energy, instead of against it. I love using the energy and enthusiasm that's natural to children. I'm also sneaky about stretching and inspiring one child through the strengths of another. Mary and Nadia, the "dancers" are natural performers. Dora is often found hiding deep in the middle of the fun. Elena is wonderfully talented, but sometimes a bit reticent as a performer. I have a feeling her recital performance will be quite different because of this crazy class.
Is it time for a little energy explosion in your studio? Sometimes putting a bunch of kids together in a room is all it takes. That and the bravery to let them lead the way.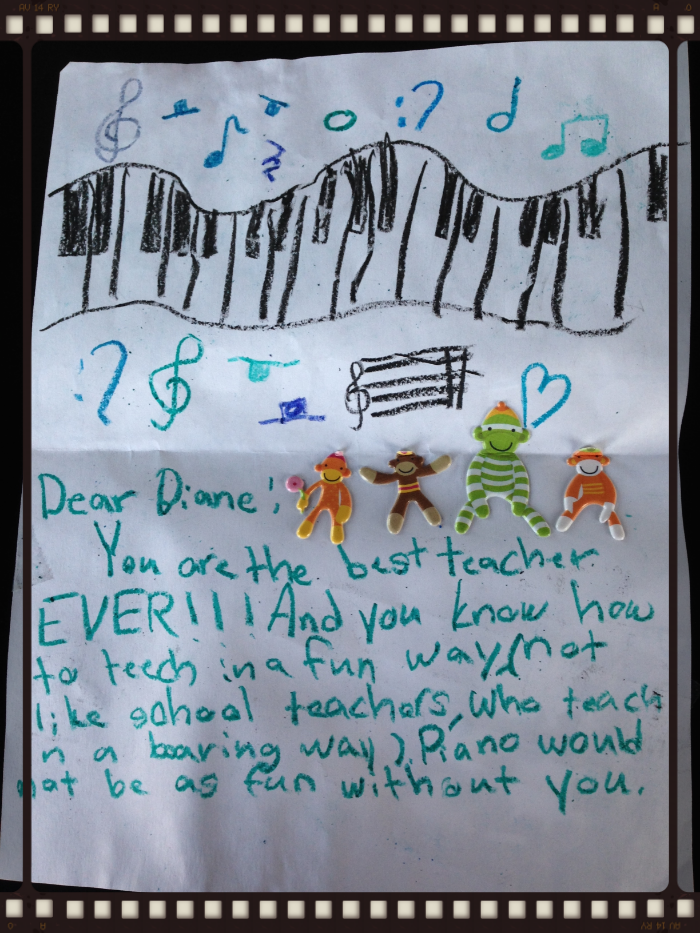 P.S.
Elena made this card for my birthday last week. I suspect that this kind of energy explosion class might contribute to her perception that I teach in a "fun way."
Aren't these little Zoo Animal Faces Stickers stickers adorable? They would be perfect for Peek-A-Boo Windows!